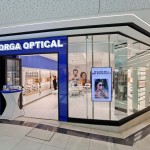 Website Torga Optical
Great opportunities for Franchisees, Optometrists, Store Managers and Eyewear Consultants.
Due to continued expansion opportunities exist for a new Optometrist to join the Torga Optical Team in Rustenburg.
Torga Optical is the only fully vertically integrated Optical Chain – offering a state of the art lens technologies, unique frame stylings and a highly competitive client offering.  You need to be an Optometrist passionate about client professional care, service, lens technology, and the business of optometry. Please send your application and cv to Ian: ian@torgaoptical.co.za or call 083-6591954.