The magical Kruger Park played host to an amazing Optometric event in June – The Paediatric Training Academy's latest congress titled: "Paediatric Vision and Technology Use". Delegates from all over the continent converged for a magical 3 days of learning, networking and fun.
Topics at the congress included:  Eye movement analysis in clinical practice, Social networking and internet use by young people, Ethical practice marketing and management, Paediatric Low Vision Rehabilitation, The 30 minute BV exam,  Electronic screens and the effects on visual system in adults and children,  Neurological changes in the dyslexic brain – new fMRI research,  Virtual reality and modern technology use in Paediatric Vision, Understanding technology based behavioural addictions in children, Not your grandfather's myopia, Dyslexia and contrast sensitivity, Grand Rounds and advanced case presentations. An online CPD section available to the delegates also provided an extra 15 CPD points so that by attending this one event a delegate could obtain all their required CPD for the year.
There were several congress firsts: Imagine earning CPD points on a Lectured Game Drive! Wayne and Leoni (both now trained Nature Guides) took delegates on an early morning Game Drive and lectured on The Evolution of Vision and how different visual systems in nature work. Besides providing information on the evolution of vision, as different animals were seen their visual systems were discussed. And what sightings we had! Ellies, rhino, giraffe, hyena, warthog, wild dogs all played their part in making this a first in SA!




Another first in SA CPD history was an ethics presentation done in a "Mock court case" format. Who knew ethics could be fun!! Starring Prof Wayne Gillan as "Gerrie Nel" on behalf of the plaintiff "Miss Diagnosed" and Leoni Joubert as "Miss Ina Pikkel", the hapless optom caught in a civil law suit, the intricacies of Medical Record Keeping were demonstrated.



And finally, Paediatric Ocular Pathology was brought to life in a Game Show format where delegates used their cell phones to answer quiz questions. The winner walked away with a Welch Allyn Ophthalmoscope/Retinoscope Set! What fun!


Both local and international speakers helped make this an event to remember. There was also plenty of time for socialising since most of the delegates and exhibitors were staying in the camp itself. The Cocktail party, Bring, and braai and astronomy evening were all enjoyed by delegates, speakers and exhibitors alike.




We had 13 exhibitors with products relating to Paediatric and BV who had the foresight to join in this amazing event and helped make it super special. It was a great opportunity to meet and greet and network with old friends and new.  Plenty of lucky draw and spot prizes were handed out and all in all prizes to the value of R128 000 were given away over the 3 days!!








The delegates' stylish goodie backpacks (thanks Essillor!) were filled with all sorts of lovely useful items from buffs and beanies (thanks Spectrum!) for the early morning cold game drives to travel mugs (thanks Coopervision!) so they could take their coffee along, to some Rhino Tears wine for the bring and braai.
The 3 days flew by far too quickly and soon it was once again time to return to the real world, having hopefully learnt a host of new skills to enhance our optometric abilities. Thank you to all the delegates for making the effort and having the vision to travel to this one of a kind event. The friends and family who joined helped make this a stunning weekend. Thanks to all the lecturers who presented and the companies who travelled so far and provided such amazing prizes. You all helped make this an amazing and memorable event. Certainly, the highlight of my year!
An appeal to our lovely delegates on behalf of SANPARKS Honorary Rangers also led us to raise funds for the Rhino anti-poaching fund. Well done SA Optoms! You guys rock!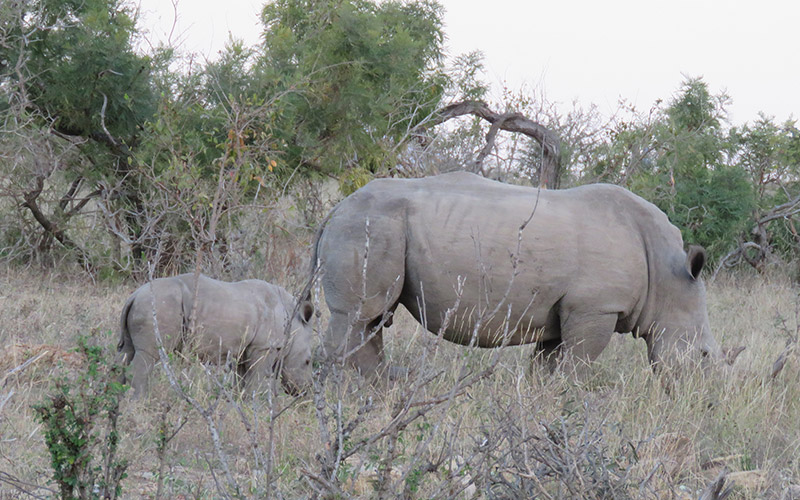 I hope to see you at the next amazing Paeds/BV Congress!! If you missed out on this event pop me an email and I will add you to our mailing list.
Leoni Joubert iacle@iafrica.com
(011) 680-3400
Leoni Joubert (M.Phil (Optom); B.Optom; MBCO(UK); CAS (Peds and BV – NECO (USA)); CAS (NECO-USA); Cert Dyslexia Assessment (UJ); SAALED)