The jury has awarded the SILMO d'Or prizes…
FRAME TECHNOLOGICAL INNOVATION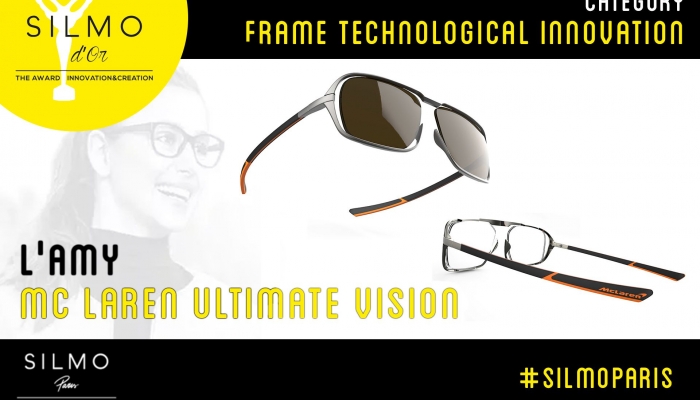 L'AMY with « McLaren Ultimate Vision » / Hall 6 H 082
True to the McLaren essence, championing innovation for ultimate performance, the McLaren Ultimate Vision collection pushes cutting-edge technologies to perfection.
The collection is based on 3D titanium printing, to form an organic and aerial structure. This design brings a unique comfort on the nose area, and the dramatic lens holding in 2 points releases them from any tension. Thanks to a 3D facial scan, this structure can be adapted to precise measurements of the wearer. The rotary hinges of overmolded beta titanium temples allow them to curl up at the back of the face when closing.
CHILDREN
URBAND with « Eyelet Active » / Hall 5 P 134
"Launched at Silmo 2018 Eyelet Active range is designed for the little ones. Eyelet Active is a strong resilient kids' eyewear that can hold well and maintain good grip on children's face even with rough handling.
Thanks to this innovated technology, Active support an extreme bending, the frame returns to the original shape and position. Eyelet Active provides the perfect Stability and Comfort giving a visual clarity at all times.
Eyelet Active combines design, color and stability, even for the most active children!"
OPTIC FRAME "FASHION TREND"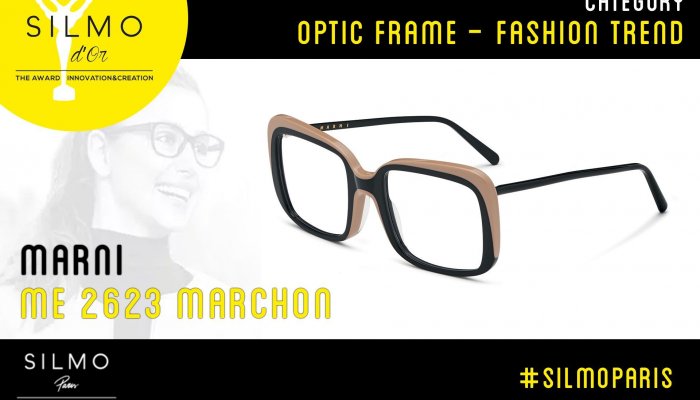 MARNI with « ME 2623 » MARCHON / Hall 6 B 089
Featured in the FW18 Adv campaign, Marni ME2623 reveals a vintage, sophisticated inspiration, expressed in versatile, distinctive design with a very striking, elegant look. Marni's signature color block aesthetic inspires this rectangular optical design offered in a distinctive mix of contrasting Mazzucchelli acetates. The style's artisanal refinement is the result of a handmade process that allows the two front layers to be bonded together, adding a playful touch. The geometric proportions and contrasts emphasize this style strong personality, perfectly interpreting Marni's inventive spirit.
SUNGLASSES "FASHION TREND"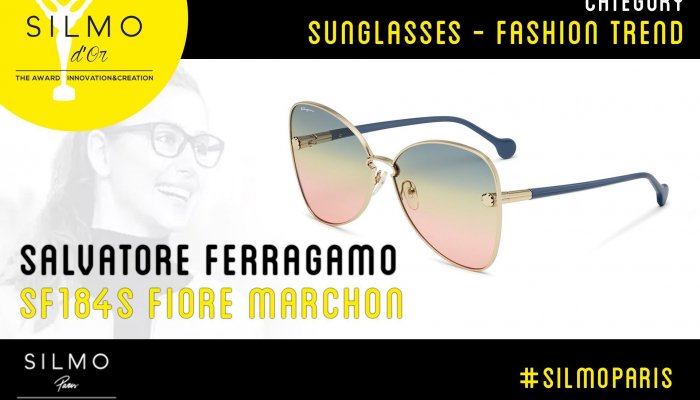 SALVATORE FERRAGAMO with « SF184S FIORE » MARCHON / Hall 6 B 089
This glamorous and unique butterfly shaped style is characterized by an amplified gold frame-front enriched with triple gradient lenses matching the color of the iconic, round temple tips. The singular flower-shaped detail on each of the temples pierces the lens to create an exquisite metallic Fiore bloom.
The Fiore element is one of the most popular element of the brand and the protagonist of the FW18 woman campaign, inspired by the iconic Fiore shoe-heel.
The iconic key-hole bridge represents the "Gancio", one of the most popular element from the SF accessories collections, and it enriches the frame giving a touch of light for a very elegant yet intricated look.
VISION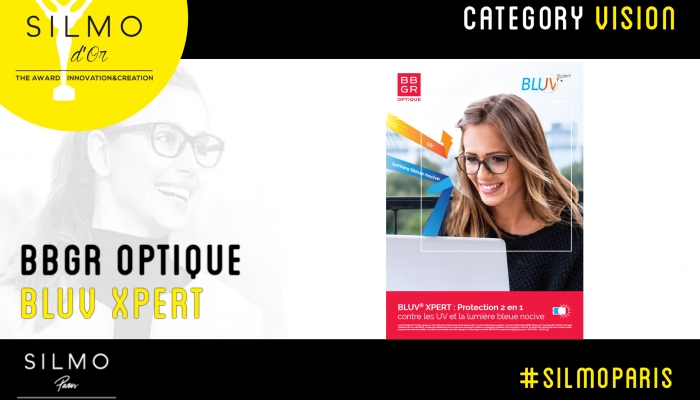 BBGR Optique with « BLUV Xpert » / Hall 6 C 039
We are more and more exposed to harmful light. Chronic UV exposure can be associated to the origin of several cornea and crystalline diseases. Harmful blue light may have an increased impact on glare and visual fatigue*. The new BLUV® Xpert lenses are designed for everyday. The specific molecules inside and the new patented nano technologie offer 2 in 1 protection against UV and harmful blue light**, while allowing the lenses to be transparent***. BLUV® Xpert lenses can be combined with Neva® Max UV and /or Neva® Max Blue UV to increase protection against UV back side reflections and/or harmful blue light.
*visual fatigue is a multi factorial phenomenon ** On the front of the lens 100% of UV (up to 380 nm) are blocked; 100% of blue light is block up to 404nm for 1.60 & 1.67; 1.5 lens blocks 100% up to 402nm. Blocks at least 20% of harmful blue light (415-455nm; Arnault & al, 2013, Plos One)*** Extremely low residual tint resulting from absorbing harmful blue light
Ex aequo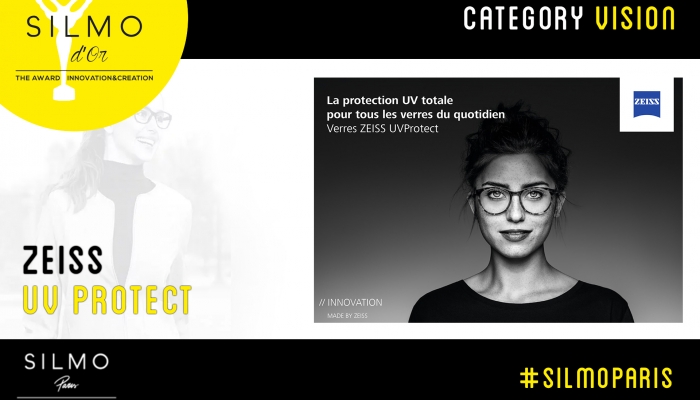 ZEISS Group with "UV Protect" / Hall 5 H 032
Ultraviolet Radiation is always there, every day even when it is cloudy. It has proven harmful effects on our health, especially for our eyes and eyelids. Despite a widespread popular belief, most spectacle clear lenses currently sold do not fully block UV Radiation. ZEISS innovates in Eye HealthCare by introducing a new technology available on its entire portfolio. ZEISS UVProtect lenses, granted with three patents, are based on specific UV-absorbers, combined with a new anti-reflective coating, that guarantees optimal UV protection, without any compromise of the aesthetics and optical qualities.
MATERIAL / EQUIPMENT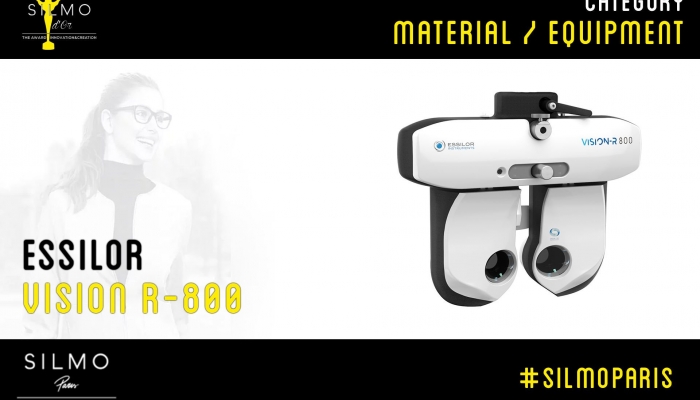 ESSILOR with « Vision R-800 » / Hall 6 J 105
Essilor's Vision-RTM 800, a phoropter with continuous powers changes, including unique algorithms to assist the practitioner in the refraction procedure and offering the patient the ability to instantaneous compare prescriptions in simulated real life conditions. For a more precise refraction, made easier for the practitioner and more comfortable for the patient.
OPTICAL FRAME "EYEWEAR DESIGNER"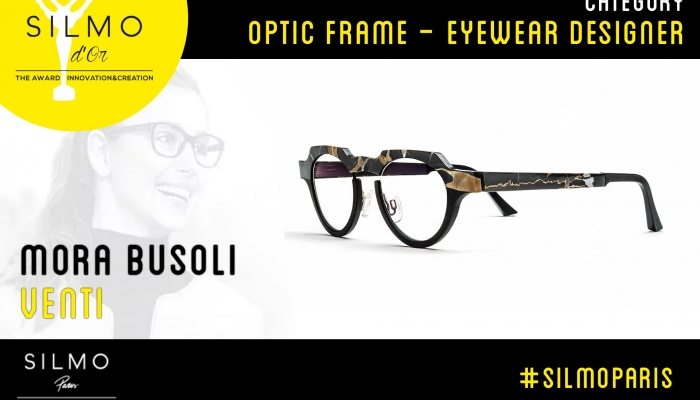 MORÀ BUSOLI with « Venti » / Hall 5 N 082
A sharp contrast between harmonic rounded shapes and fierce geometric ones. An homage to the feminine and the masculine fused into each other. Our personal tribute for a unisex, evergreen spectacle, born a hundred years ago in New York. Strictly for people with an attitude.
In occasion of the centenary from the creation of the pantos shape, Morà Busoli and Patrick Hoet give their personal tribute by revisiting it with a new, captivating restyling available in 12 marbles and 4 precious stones matched with aerospace carbon fibre. Weight: 25gr. 100% Italian Handmade.
SUNGLASSES "EYEWEAR DESIGNER"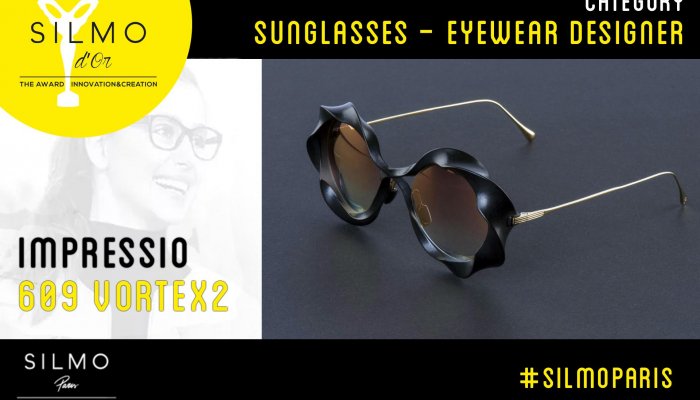 IMPRESSIO with « Impressio 609 Vortex » / Hall 5 HJ 149
Design realized using mathematical algorithms, representing a Vortex type profile that wraps around the lens forming an 8 infinite, almost flowery. By its movement, this model represents, the complexity of the infinitely simple.
The face is made of Polyamide (3D printing) polished and tinted to give a smooth, close to leather look. It is assembled by hand with branches in beta matrix titanium. This marriage makes it possible to create very light voluminous pieces (20 gr, glasses (crystals) included).
PREMIERE CLASSE PRIZE
THIERRY LASRY with "Shorty" / Hall 5 D 139
JURY SPECIAL PRIZE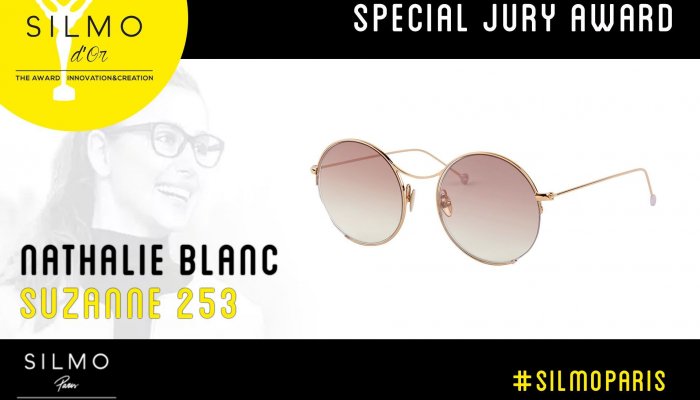 NATHALIE BLANC with "Suzanne" / Hall 5 L 107
The pictures of the SILMO d'Or 2018 party