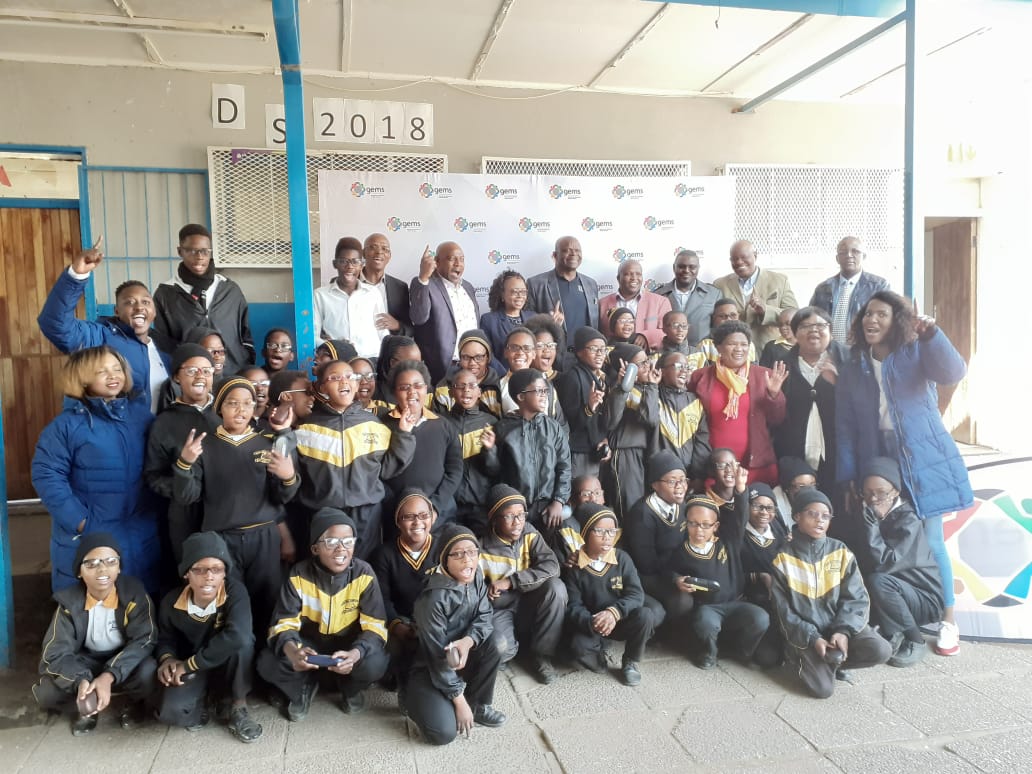 Members of the Government Employees Medical Scheme (GEMS) executive committee and Board of Trustees handed out prescription glasses, free, to disadvantaged children in Mahikeng, North West, on 1 August 2019.
The handover is part of the Scheme's Corporate Social Investment (CSI) programme, aimed primarily at addressing South Africa's developmental challenges, especially those related to healthcare. The Scheme was in the North West's capital city for its 2019 annual general meeting and the prescription glasses handover took place at the Ipeleng Primary School in Mahikeng.
"The eye tests were administered by qualified optometrists from the Scheme's Optometry Network administrator, OptiClear," said Dr Goolab. "More than 1 000 children were screened for visual ability, and those who needed a more comprehensive test were referred for one. If glasses were prescribed, GEMS sponsored these. This is part of our mission to provide equitable access to healthcare to all South Africans."
Children who have eye problems can enjoy normal vision if their particular problem is detected and treated early, says the South African Optometric Association (SAOA). The association says its research shows that more than 10-million children suffer from undetected vision problems simply because they are not evaluated properly. This can translate into performance or learning challenges, which is why the association says eye tests should be compulsory for school children.
The SAOA says most school screenings focus only on clarity of vision, but this means many vision impairments go undetected. To ensure learners perform well at school, they need clear eyesight, but they also have to successfully perform varied visual tasks – scanning, focusing, binocular vision and visual coordination are needed.
GEMS's CSI focus areas include making health information available to all South Africans, and partnering with state organs to provide healthcare resources such as spectacles to these people. Annually, GEMS identifies a healthcare need that benefits from its CSI programme and the Board of Trustees are committed to ensuring this makes an impact on those that would otherwise not have access to the identified services.
"Our vision for South Africa is of a country where everyone has access to quality, affordable healthcare, and eye care is an integral part of that. Without diagnosis and treatment, children's eye problems can lead to learning challenges, that's why we sponsored eye tests for these children," said GEMS Principal Officer Guni Goolab.
GEMS's optometry management programme provides GEMS members and beneficiaries with clinically essential optometry benefits, ensuring its members get the eye treatment they need for their health and sight. This includes spectacles or contact lenses in each benefit year, bifocal and multifocal lenses for GEMS beneficiaries who are over 40.
GEMS is South Africa's second-largest medical scheme overall, and its largest restricted scheme, with more than 700 000 primary members and 1.8-million beneficiaries. It is restricted to the country's public-service employees, and has grown its membership remarkably since its 2004 launch. GEMS is viewed by the government as a precursor to South Africa achieving quality universal healthcare coverage through National Health Insurance.

Dr. Stan Molobi GEMS COO and Mr Nkosinathi Theledi GEMS chairperson of the board of trustees handing over glasses to scholars from Bodiri Primary Schools